All of us often might have found the high profile people and celebrities having google search cards and many of us might think of how they create it or how it is visible on google. So we have came here with the answer to all your question. It is all because of the Google People Card. And the best thing is that we all can appear in google with the help of this Add Me To Search feature of Google People Search card. In other word we can also it is also known as add me to search card google.
Same goes with the business your Business can also appear in the searches because of this google feature known as "Add Me to Search". This is one of the great features of google but it is available for some selected countries like India, Kenya, Nigeria, and South Africa. If you are from these countries it is a google new for you all you can also appear in Google people card all you need is to set language to English or Hindi and select some simple step that we will tell you to follow. This feature lets you tell the world about your information in a crisp, informative, and accurate manner so that nobody has any confusion about you or your business.
In this article, we're going to discuss anything to everything Google Search Card and how to use its Add Me to Search feature. But before driving directly to how you can build Google People search cards, let's start learning what it is so that we don't have any confusion in mind.
What is a Google people card?
The Google people card is a great way to find out what kind of person someone is based on their online behaviour. When you search someone's name, you'll get a snapshot of who they are, including information about their age, gender, location, occupation, relationship status, and interests. You can even see if they've been tagged in any images.
Google guidelines for your google people card
Here are some google guidelines for your google people card that you should read before creating google people card
You should be the true person that means the information that you are providing should be genuine.
You should not use solicitation or advertising for words like cheapest, best, buy, only etc.
There should not be any comparison, or negative words used.
You should use polite words. There should not be a rude, hateful, violence tone.
You must respect the right of others including, intellectual property and privacy rights of others.
Step to create Google People Card
First Step – Go to google.com/people
Second step – Click on "Create Account" button at top right corner of page
Third step – Fill out the form with your name, email address, phone number, gender, birthday, occupation, company name, website URL, etc.
Fourth step – After filling out the form click on "Continue" button
Fifth step – You will get a confirmation message that says "Thank you! Your account was created successfully."
Sixth step – Now go back to google.com/accounts and login using your username and password
Seventh step – Click on 'People' tab at top left corner of page
Eighth step – Click on "+ Add Person" link
Ninth step – Enter person's first name, last name, and email address
Tenth step – Select "Google Profile" option
Eleventh step – Choose person's gender, date of birth, location, and occupation
Twelfth step – If you want to add a picture, click on "Choose Photo" link
Thirteenth step – Upload photo
Fourteenth step – Click on "Save & Continue" button
Note: It can take up to 24 hrs for your card to show up in Google Search results. Now if you are confused that if your name is similar to someone who already appears in google result page that how? So don't worry you can use other adjectives to distinguish your profile. This term will help other people in their search query. For example, "Shahrukh Khan Blogger" or "Shahrukh Khan tutor."
How To Edit your Google people search card
First Step – Go to google.com/
Second step – Make sure you're signed into your Google Account.
Third step – There will be edit option you can click on that.
Fourth step – Now you can edit your information on Google people search card.
How to remove your Google people search card
First Step – Go to google.com/
Second step – Make sure you're signed into your Google Account.
Third step – There will be an edit option you can click on.
Fourth step – Move to the bottom at the preview option.
Fifth step – There will be an option to Remove my search card from Google.
Sixth step – Now wait for some time your profile will be removed.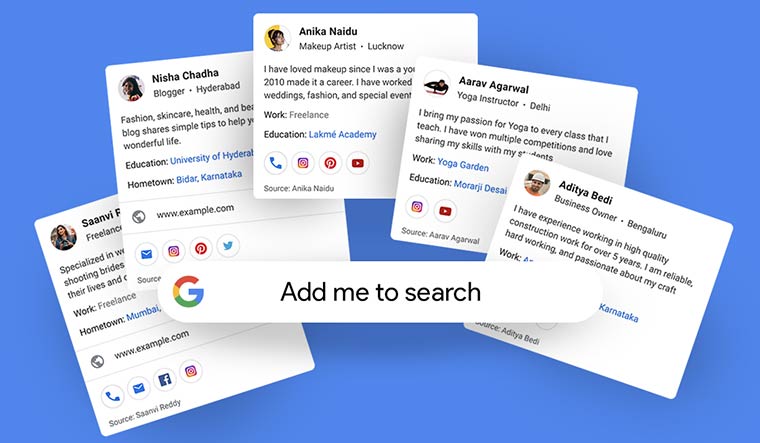 Successful Google People Cards
Today the world is shifting on digital marketing and it is very important to be found digital. Now there are many people available on google so it is important that you should be found and use the right things so that people can easily reach you. So it is not only important to be on Google people cards but also your google people card should be optimised. Here are some of the important points that you must follow to create a successful Google people card.
1. Use the right keywords
Google people cards are a great way to get noticed online. But if you don't use the right keywords, you won't rank high enough for many searches. Make sure your website's URL (web address) includes your keyword(s). If not, try adding them. You may need to add additional words to make your site easier to find.
2. Include a photo
A picture tells a thousand words, so put a photo on your Google people card. Photos help users identify your business and build trust.
3. Add links
When someone clicks on your Google people card, they'll be directed to your website. To increase click-through rates, add links to your social networks, blog posts, and other relevant pages on your website.
4. Be consistent
Make sure your Google people card looks the same across all devices. Don't change fonts, colors, or images.
5. Keep it clean
Don't clutter your Google people card with unnecessary information. Limit text to just your name, contact info, and company logo.
6. Get creative
Use fun graphics and videos to attract attention. Try using animated GIFs or video clips instead of static images.
7. Optimize your page
If you're not familiar with SEO, search engine optimization, or how to optimize your webpages, ask your web developer to help.
Now as we have learned about Google people card, it adds me to search card google features and also the main thing it's Guideline. So let's start with creating the Google people search card. Below are the steps that will help you in creating Google people search cards with the help of add me to search card google feature. Just follow the steps and you will be good to know.