Have you heard the term performance marketing, it is so common nowadays in digital marketing industries. There are many types of digital marketing strategy and one of them is performance marketing which means performance-based marketing. In this type of marketing a user has to pay only when a specific action occurs or its requirement is met like clicks, sales, etc.
In this article we will be studying Performance marketing in a detailed manner. Where we will try to learn how it works, why we should use it, what are the benefits of performance marketing etc.
What is Performance Marketing?
Performance marketing is the term given for online campaigns or advertising programs in which advertisers pay marketing companies or advertising platforms for results achieved, such as clicks or conversions.
The results of performance marketing are trackable, measurable and that is why it helps us in understanding consumer behavior and preferences. Companies use this information to create strategies that target specific groups of people based on demographics, psychographics, lifestyle, and interests. It helps companies develop deeper relationships with their customers. By understanding their likes, dislikes, and habits, companies can provide them with the best possible experience.
There are many performance marketing channels like social media, search engines, videos, display ads and more. This is a win-win marketing program in which both advertiser & agency are satisfied and get profit. Advertiser is satisfied as he feels confident that the money he spent on the campaign has given him desired results. Plus, the agency feels confidence for brand exposure and the performance and results they have achieved. It is the best strategy to increase ROI for your online campaign.
Performance marketing is best suitable for small businesses, where the owner can't spend millions of rupees for branding and other paid advertisements, they just want to focus on profit. So with the help of performance marketing the owner is able to advertise the product & services in the market, and can pay when their desired action is completed. In this way small business owners can maximize their ROI.
Companies that implement performance marketing have higher customer satisfaction than those that don't. According to a study conducted by the University of California Berkeley, companies that use performance marketing enjoy a 5% increase in revenue per employee.
Benefit of Performance marketing
Year on year performance marketing industry is growing as it has a huge potential to increase the ROI and sales of your business. Here are the top reasons why you need to invest in performance marketing:
1. Trackable
Since performance marketing works on desired results. It is easy to measure their metrics directly. There are various marketing management tools and technologies that make it easier to track your campaign performance and help you in optimizing your online campaigns based on the data gathered.
2. ROI-driven marketing
The main focus of performance marketing is to provide you a better ROI unlike other digital marketing forms. It works on lower CPA (Cost Per Acquisition) and higher ROI.
3. Save Money
Best part of performance marketing is that you can see real time results and can optimize or increase the budget according to your performance marketing campaign. Even if you can pause the campaign that is not performing well, this causes you to save a lot of money in useless campaigns that are not giving you the desired results.
4. Tap new audience
An effective performance marketing helps you to target your niche and highly targeted audience that are interested in your product and services. You can tap highly targeted traffic, and generate more sales using an affiliated marketing form. It also helps you in brand awareness.
5. Pay only for results
You don't have to pay upfront to performance marketing agencies. Instead you have to pay only when your desired action or goal is met. This increased the satisfaction less of both advertiser and marketer as the money is not wasted in any ways when we opt for performance marketing ads.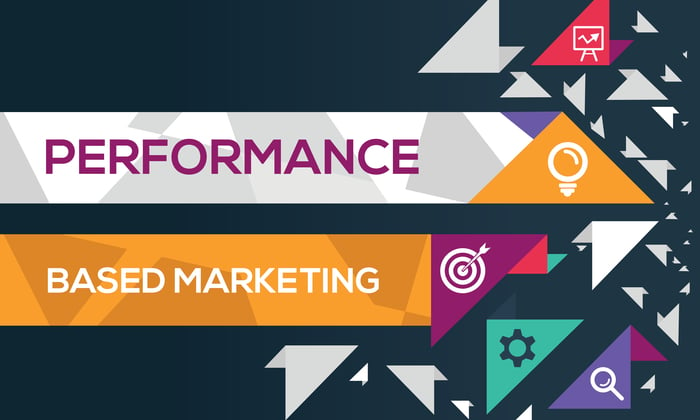 Types of Performance Marketing
1. Native advertising
Native advertising is one of the best advertisements because it has a natural appearance on web pages or sites. People are forced to see those ads. It appears on the screen similarly like it is a part of the webpage of that website. The best part is that native advertisement gets 10x more clicks than any other forms of online advertising as it provides value to the customer and it is related to what the customer is seeing on its screen. Here is an example of native advertising, while watching any video on youtube we see some sponsored videos that appear on the "Watch Next" section or while browsing any article, you see some sponsored article related to that content. The reason native advertising works best nowadays is because the user is not able to differentiate between both content and allow the user to promote your brand in a natural manner.
2. Search Engine Marketing
SEM, or search engine marketing, is an essential part of performance marketing but it requires a lot of research work. It basically relies on keyword, content marketing and SEO-optimized landing pages. But it doesn't have anything to do with the search engine's algorithm. In Search Engine Marketing you have to choose keywords wisely as all of your strategies aim to work according to the keyword. choose. For example if you should use a highly intent keyword like "digital Marketing Services" So there is a more possibility of sales because the user that is searching for digital Marketing Services wants to buy it. So it increases the chance of conversion. One more thing that is important in SEM is to work on real-time auctions. As the user searches for a query, advertisers bid on the keyword that shows how much they are willing to spend for a click. According to the bid there advertisements are placed on google search engine result page. The higher your bid the higher you appear in SERP. SEM is a complex process, but if you understand it, you will get higher ROI. There are many SEM/SEO tools that can help you in finding the right strategy for your SEM campaigns.
3. Affiliate marketing
Affiliate marketing is a definite subset of performance marketing, as it is entirely driven by metrics and goals. It works on a marketing model in which publishers agree to affiliate the advertiser product to produce traffic and sales. With affiliate marketing, a commission is earned for the online promotion of the product or service of another company. The affiliate marketer advertises on behalf of the merchant, with the goal of driving traffic, clicks and sales to the merchant's website. The affiliate receives payment only for actions taken, such as clicks, conversions or leads. For example, publishers placing banner ads of "online reputation management services" on his websites for which he has written positive reviews for the advertiser brand. This means the publishers are trying to convince its users to buy the advertiser products.
4. Social media Marketing
Social media networks are the most important marketing networks nowadays, it not only brings traffic to your site but also helps you in brand awareness. Social media marketing is one form of performance marketing that you can ignore as people are spending most of their time on social media. That is why Social media marketing has become a major aspect of performing marketing. There is a list of social media channels that you can use for your performance marketing which includes Facebook ads, Twitter ads, Instagram ads, LinkedIn, Pinterest, YouTube, Snapchat, etc. You can use these channels for influencer marketing, affiliate marketing and other paid marketing as well. There are various ad formats that you can use and target your audience to achieve your desired result. But you have to experiment with different social media channels and different keyword bidding to know which social media channel performs best for you.Also you can measure KPIs such as engagement, likes, comments, shares, sales, clickthrough rate (CTR), CPC and ROI.
5. Sponsored content
It is a form of native advertising or you can say that it is a content marketing, sponsored content majorly involving a post, article or a video that publishers publish on its website dedicated to a brand or goods and services for some sort of payout. Be it in the form of free products, its services, traffic, cost-per-click (CPC), cost-per-mile (CPM), or cost-per-action (CPA)-based compensation, etc. payment. It is one of the best ways to get quality traffic and conversions, increasing brand awareness to your niche targeted audience.
How do I measure my performance marketing?
The first step to measuring your performance marketing is to understand what metrics matter most to you. There are many different ways to measure success, and some may work better than others depending on your goals. Here are just a few examples of things you might want to measure:
Sales – How much money did you make?
Customer Satisfaction – Did customers have positive experiences with your company?
Product Quality – Are your products high-quality?
Brand Awareness – Do people know who you are?
Social Media Engagement – How often do people interact with your brand online?
Website Traffic – How many visitors does your website get each month?
But according to me the best method to measure the success of performance marketing is ROI (return on investment). Measurable ROI is the main and the key thing to measure the success of any online campaign. So we will recommend you to track it regularly.
There are lots of performance optimization tools available online that will help you in gathering data for your online campaigns. You can analyze that data deeply with your insights and can optimize in a campaign more accurately and in an effective way.
Here are some key metrics that are commonly used in performance marketing:
Cost per click (CPC)
Cost per click and pay per click almost work on the same marketing models that charge advertisers based on how many times the ad is clicked. This method is often employed by websites that display sponsored links. In this case, the advertiser is charged for each time someone clicks on the link.
Cost per thousand Mile (CPM)
CPM advertising systems charge advertisers a set amount for each 1,000 impressions delivered. This type of model works best for web pages or mobile applications. Because it does not require users to click on an ad, a CPM rate tends to be lower than CPC rates.
Cost per view (CPV)
CPV systems charge advertisers based on how much time an audience spends watching the advertisement. CPVs are commonly used in television and video ads.
Cost per acquisition (CPA)
CPA refers to a pricing strategy where advertisers pay for the number of people who complete a transaction after clicking on an advertisement. This type of model is often used for lead generation campaigns. An insurance company might offer a free quote to anyone who enters his contact information. If he later buys coverage, then the insurer charges him a fee. CPA is also known as cost per action
LifeTime Value (LTV)
LTV metric measures the predicted "lifetime value" of a user throughout their relationship with the brand or a company. It is the expected spend that is used to acquire a user, using predictive analytics. The LTis an advanced method and is becoming a popular metric nowadays. It helps marketers to plan their overall strategies and maximize the ROI.
Once you've decided what metrics matter most to your business then start making the performance marketing campaigns.
How to make a Performance Marketing Campaign?
Follow the step below to step up successful performance marketing campaigns. Here we are telling each and every step in a detailed manner so that you can make your marketing campaign successful. Let's start with the steps.
1. Define your goal for performance marketing campaign
Before you start with your performance marketing campaign it is important for you to understand about your business and what result you are expecting through your campaigns. It will give you a clearer and better idea on how to manage your performance marketing campaign. It will also help you to establish your campaign goals so that you can measure your success accordingly. Every business and every campaign has its own goal be it to generate brand awareness or sell a product. Setting a goal is the first step of your performance marketing campaigns as many ad platforms require you to establish goals first before creating ads or setting your campaigns. Also setting goals is an important part of performance marketing, so ensure that you are very clear about it.
2. Choose right performance marketing channels
Second important step is to choose the right performance marketing channels for your campaign. There are many performance marketing channels like search engine marketing, affiliate marketing, social media marketing, native advertising etc. You need to choose the channel best fit according to your needs and goals. If you are confused about which performance marketing channels you should opt for, then we will recommend you to invest a small amount in different channels, rather than focusing on one particular channel. Once the campaign is live, then according to the real time data you can pause or increase the budget of the performance marketing campaign and channel that perform well.
3. Create your campaign and launch
Now it's turn to create your campaign and make it live. Before that, build a strategy and do research work on which audience you should target and which keyword you should choose to target in your campaign so that your ad will be visible to your target audience. We will also recommend you to study your competitors to stand out effectively. The more you understand the target audience behavior the best result you can expect. Performance marketing also helps you in developing new and creative ways to attract your target audience.
4. Monitor and measure
Performance marketing often requires a lot of effort as you have to test and trial many different methods to be successful. Just focus on keywords, and try to research your competitors' strategy. Also monitor your strategy whether it is working for you or you have to change it.
5. Optimize your performance marketing campaigns
Now as you have made the campaign it is time to measure the performance and optimize the campaign accordingly. You can take the help of real time data to optimize your campaign time so that you can drive better results. Also you can test different performance marketing campaigns so that you can test which campaign is getting better ROI.
Successful Performance Marketing Tips
Now as you know how to make a performance marketing campaign, here are some essential tips that will help you in making your performance marketing campaign successful.
First step is to make a good landing page. Landing page is your first impression of your brand and all of us know that first impression changes many things, so make sure that your landing page is well optimized and user friendly. Also test all links and forms of your landing page whether they are working correctly or not. As it can create a problem in converting our visitors to customers.
Provide an appropriate offer so that visitors that are coming to your landing page will convert easily into your potential customers. It also lures the affiliate company to work with you and promote your brand. So always think twice before deciding to go with the offer on your website as that can increase your click through rate also.
Trying to test different strategies and measure their results is an important part of performance marketing. So try optimizing your campaign according to the result you get by different strategies and increase your conversion rates, click-through rates, AOVs and traffic. Always do A/B testing to get a clearer picture of what's working and what's not.
Make sure that traffic coming on your site is from reputable sources. A low grade site will provide you low-quality traffic. So always try to partner with reputed affiliates sites to get good quality traffic.
Performance marketing is all about building relationships between brands and publishers to reach, engage and convert audiences to build your brand.
The Federal Trade Commission (FTC), CCPA (California Consumer Privacy Act) and GDPR (General Data Protection Law) have set some rules and regulations for both brands and publishers. So always follow their rules and regulations properly, and to avoid any deceptive or unfair messaging in the campaigns. All Brands and publishers must read the guidelines carefully and accordingly design their campaigns.
Performance Marketing vs Other Marketing
Performance Marketing vs Brand Marketing
Performance marketing is the practice of using advertising techniques to promote products or services based on their performance. In contrast, brand marketing focuses on building brands and developing long-term relationships between companies and consumers.
Performance marketing is often associated with direct marketing, where marketers target specific individuals or groups of people who have expressed interest in a product or service. On the other hand, brand marketing is commonly associated with indirect marketing, where marketers attempt to create awareness about a company's products or services among potential customers.
In recent years, many businesses have begun to use both types of marketing strategies. However, some experts believe that performance marketing is becoming less popular than brand marketing, as performance marketing has some drawbacks over Brand marketing.
Drawback of Performance Marketing over Brand Marketing
Performance marketing requires a lot of time. Marketers must identify the right audience before they can begin to advertise. Once they have identified their audience, they must then determine how best to reach them. Finally, once they have reached their audience, they must develop creative ways to get their message across. All of these steps require a great deal of time and effort.
On the other hand, brand marketers can take advantage of several different tools to help them market their business effectively.
First, they can use social media platforms like Facebook and Twitter to build a strong online presence.
Second, they can utilize search engine optimization (SEO) to make sure their website appears at the top of search results.
Third, they can use email marketing to send messages directly to their customers.
Fourth, they can use content marketing to publish articles and blogs that inform their audience about their business.
Finally, they can use video marketing to share videos that demonstrate their expertise.
Programmatic Advertising vs Performance Marketing
Programmatic advertising is an automated method of buying and selling of ads on digital platforms. In programmatic advertising, advertisers bid on keywords or phrases that best match their ad campaign. Advertisers use these bids to target specific audiences based on demographics, interests, behaviors, and location. Because of its targeted nature, programmatic advertising is often called "targeted marketing." It is considered to be the future of marketing because it provides marketers with greater control over their campaigns. Read more about programmatic advertising here.
Performance Marketing is a type of marketing that relies on data analysis to determine what works best for a particular product or service. It is a highly effective marketing strategy that helps companies understand how customers think and behave.
Both performance marketing and programmatic marketing are the best digital marketing options to opt for in the future.
Affiliate Marketing vs Performance marketing
Many people might think that performance marketing and affiliate marketing are the same, but the fact is that affiliate marketing is a form of performance marketing.
Performance based marketing is a type of advertising where you pay for advertisements (usually on websites) and then try to target specific groups of people who are interested in what you're offering. You can use performance targeting to promote products and or service. Whereas affiliate marketing is a type of marketing where you sell someone else's product or service. In return, you get paid a commission for each sale generated by your referrals. There are many different ways to make money using affiliate marketing. Performance marketing is direct marketing whereas affiliate marketer is indirect marketing.
Conclusion
As other marketing methods there are many changes in the performance marketing method and all thanks to new technology. As people are changing their behaviors and adapting various new habits, in a similar manner there are many new tools coming in marketing to track user behavior and target the right customer at the right time to get good results. Digital marketing world is changing to a performance-driven world, where selling the right thing to the right person at the right time makes all the difference. There are various tools that will help performance marketers in achieving significant results.
There are many performance marketing agencies that will help you in achieving better results. One of the best performance marketing company is Technology Drift that will provide you with a solution for all your digital marketing needs and it will help your brand to stand out in the market with best performance marketing results. So if you are looking for the best contact us now if you are looking for the best performance marketing agency?