Image hosting services are becoming popular and are an essential segment of the online industry. These service is often effective if you want to host the picture on your blogs, forums, or social network websites. Nowadays, Imgbox has become very popular as it is one of the free image hosting services providers that stores your photos for a lifetime, and there is no limitation.
What is Imgbox?
It's a free image hosting service almost like Imgur or Imageshack and many more. With img box, you'll easily store images, infographic and graphics online free of charge and a lifetime. Further, there is no limitation or restriction by bandwidth. The hosted images can easily be linked to other websites or any other web services like forums, blogs, etc.
It is used in saving the webspace and bandwidth of our website as we all know that image/picture utilize the high amount of bandwidth in our websites or hosting. This is often an ideal service for sharing photos of your friends and family. You would like not to waste some time attaching the pictures in from your email service, you just have to upload the snaps on it with blazing speed, and can share the link with others. The website is made with a simple framework. To figure with it, you only need a browser that supports the Javascript and Flash. Like some photo hosting sites, you don't have to create an account on www.imgbox.com, which means you can upload your pictures immediately.
How Img box work?
You can easily use it. Just follow the step with us.
You can upload your images/Pictures once you sign-up-login in the Img box.
Click on the Upload option on the top.
Now click on the "Select File" option or and drag & drop your images in it.
Now you can choose the content type whether your pictures are safe for work or it contains adult content.
You can also select the thumbnail size, and even you can crop or resize your thumbnail pictures.
Finally, you can select the gallery on account where you want to upload the images/pictures, or else you can even create the new gallery here.
Now just click the "Start Upload" button to finish your upload. Now you will get a share/embed link to share images directly through the link, HTML code, or BB code.
Why use imgbox?
It is a 100% free Image hosting service with a comfortable and clean interface. Comparing to other Image hosting providers, imgbox is fast and provides unlimited space for storing.
Before we proceed let do imgbox review let's check the features of imgbox :-
It supports JPG, GIF, and PNG image formats up to 10 MB in size.
Drag-n-Drop facility to upload the images with ease.
Hotlinking to embed the hosted copy in other websites, forums or blogs.
Unlimited storage space to host the photos as many as you can.
Unlimited storage limit to host your images for the lifetime.
All this possible at a lightning-fast speed.
More features in detail of imgbox:
Acceptable Image Formats on imgbox:
Imgbox allows you to upload all file types like GIF (still or animated), JPG, PNG.
If you've got to enter a unique format, like TIF or PSD, and need to upload it on imgbox, you've got to use a picture converter to convert it to at least one of the suitable formats listed above. FileZigZag and Zamzar are samples of websites that will do that.
Limitations of imgbox:
Images uploaded on imgbox must not exceed the ten MB file size limit. If you would like a much more significant size limitation, you can try Imgur.
Unless you violated the terms of service of imgbox, photos haven't any storage expiration date. This is a bit like it seems: images you upload to img box doesn't expire there can be stored for unlimited period, so you do not need to worry that they will be deleted after many days, months, or years and so on.
More About imgbox:
It's easy to share an uploaded photo over sites like Twitter, Facebook, Reddit, etc.
Thumbnails and full-size links, as HTML code and BBCode links, are all shown after you upload pictures to imgbox.
When uploading photos, you'll specify whether to permit or disable commenting.
If the link to a thumbnail image is accessed, user comments (if enabled) and social media sharing buttons are present, while full-size links show just the image and are useful for hotlinking.
An imgbox gallery of your images are often built, and that they can contain up to 500 photos.
Benefits that you get by Registering in imgbox:
Making a user account at imgbox is entirely free, and lets you do many things that the anonymous user account doesn't allow you.
Without a user account, once you can upload images to img box, you're always asked if your pictures are family safe or contain the adult content in it. You're asked the size of a thumbnail to make, whether you want to enable comments and what (if any) imgbox gallery the photographs should be added to. If you discover yourself changing these settings to equivalent options with each upload, you can make a free account to define these default upload settings on the account.
An imgbox account allows you to quickly delete your uploads picture, edit imgbox gallery, and discuss picture uploaded by other users.
For non Non-registered users
Non-registered users are also given a delete link to remove pictures if you want to plan it later. You can use this link to enable/disable comments on the picture even after it has been uploaded. Visit: www.imgbox.com for an imgbox downloader.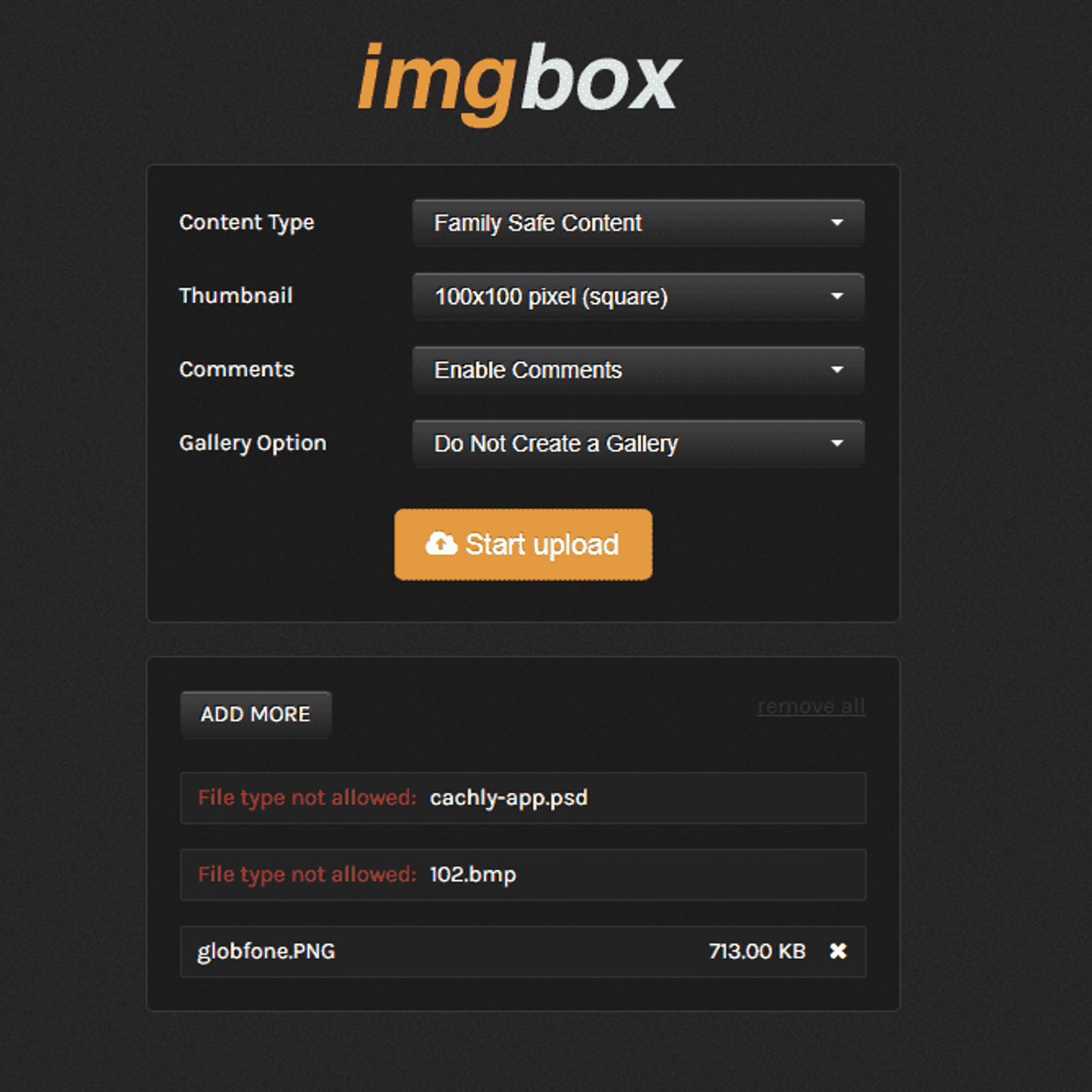 Imgbox Reviews-Our Thoughts on imgbox:
This free image hosting service has expireless time. This means you can upload your pictures without worrying about becoming unusable as you have not done any activity or because too much time has passed since you have uploaded it.
The picture you upload to imgbox retain their own original name and their extension, which means if you upload photo names as abc.png, it will also be downloaded with the same name whenever you decide to save your image next time. This is a plus point as it's easy to identify the pictures with the there given name and description settings on imgbox.
Something I do not like is that imgbox doesn't support other image formats like PSD, BMP, TIFF, etc. Most of the other image hosting websites accept different images but imgbox's accept only three file format entirely, but the format that supported is probably enough as there is used by many people.
Wanted an imgbox downloader? You can visit www.imgbox.com.